GENTECH 8 KVA PETROL GENERATOR (240V ENGINE POWERED)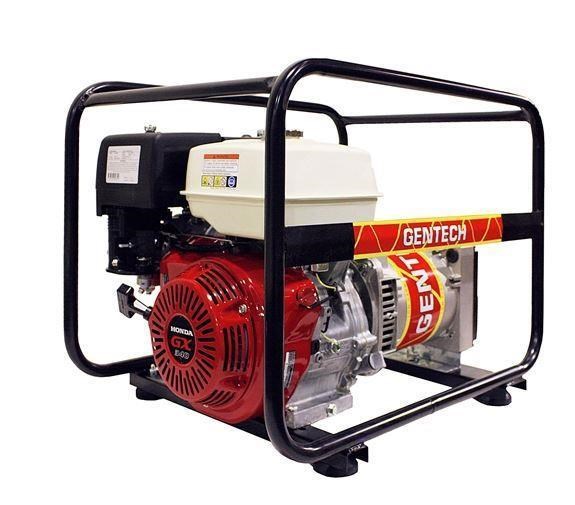 | | |
| --- | --- |
| Title | GENTECH 8 KVA PETROL GENERATOR (240V ENGINE POWERED) |
| Make | GENTECH |
| Price | $2,568 |
| Listing Type | New |
| Stock Number | EP8000HSR |
| RefCode | TA1130349 |
Designed for:

Construction & Trade
Hire & Rental
Farm & Rural
Backup Power
Shires & Councils
Government

The package is complete with a 2 year generator warranty backed by a national service network. The Honda engine comes with a 4 year warranty.

The perfect size for trade and construction applications, this generator has all the features you need and then some. The Honda GX390 delivers its legendary power with exceptional fuel economy and reliability. With a 6.5 litre engine and recoil start, the generator runs straight for almost three hours at 80% load.

Featuring 2 x 15 Amp outlets, the generator powers drills, pumps, jackhammers, and saws around the farm or jobsite. Optional add-ons include the long-range fuel tank, RCD earth leakage protection, electric start, wheel kit, wheelbarrow kit and lifting bar kit to create the all-purpose high-performance trade generator you've been searching for.

8kVA is the most common size for construction sites and agricultural portable power requirements.

Specifications:

Power Rating: 8 kVA
Model Rating 0.8pf @ 50Hz: 8 kVA
Engine Model: Honda GX390
Phase: 1-Phase
Starting System: Recoil/E-start
Fuel Tank Capacity: 6.5 L
Noise Level @ 7m: 74 dBA
Outlets: Double GPO 15 Amp
Volts: 230 V
Approx. Fuel Consumption @ 80% Load: 2.90 L/hr
Operation Hours @ 80% Load: 2.24 hrs
Fuel Type: Petrol
Diam.: 810 x 545 x 545 mm (L x W x H)
Weight: 85 kg

Optional Extras:

80-GPO-RCD-15A-3PIN-PORT - (RCD) earth leakage protection (IP56), 15amp circuit breaker. 2 x outlets. Suits units up to 3.5kVA.

80-GPO-RCD-20A-3PIN-PORT - (RCD) earth leakage protection (IP56), 20amp circuit breaker. 2 x outlets. Suits units up to 6.0kVA.

80-GPO-RCD-32A-3PIN-PORT - (RCD) earth leakage protection (IP56), 32amp circuit breaker. 2 x outlets. Suits units up to 9.5kVA.

10-N3-WK203-009 - Wheel kit. 2 wheels and 2 axles per kit. Suitable for 2.8-8 kVA models excluding all diesel gensets. For 9.5kVA and above use part number 10-N8-WK203-009.

WHEELBARROWKIT - Wheel barrow kit. 2 handles / 2 levelling feet. note: handle kit requires wheel kit.

10-N8-WK203-009 - 2 axles and 4 wheels for large long range base tank. suits EP9500HSRE and above excluding diesels.

10-GN-NO1-065 - Lifting bar kit to suit 2kVA and 3.4kVA sets

10-GN-NO3-065 - Lifting bar kit to suit 4.4kVA, 5.9kVA, 7kVA and 8kVA sets.

10-N3-LRT-009 - 25L long range tank with centre point lifting suits 4.4kVA and above, excluding Yamaha models, welder/generators, diesel models.

R/S-12V-PORT - Remote start 2 wire - electric start models only. Not available on EP5900HSRE.

80-GPO-RCD-15A-3PIN-3GANG - 3 x 15 amp single phase outlets each with individual RCD circuit breakers.

Solar Panel Kit - To suit electric start generators to keep your batteries charged.

10-N1-LRT-009 - Long range fuel tank 8.5L. Suits EP3400HSR.


Generator Dust Covers:

COVER-SML - Cover to suit generators up to 3.6kVA

COVER-LRG - Cover to suit 4.4kVA to 8kVA petrol generators, 7kVA welders, and 4.4kVA to 7kVA diesel generators.


Battery Chargers:

RAPID 400 - Input: 600w, 240v. Output: 22amp charging, 250 cold crank boost (suitable for starting most cars & small tractors)

PROGRESS 20 - Input: 300w, 240v. Output: 14amp charging.



All prices include GST. Please allow extra for freight.
Delivery is available Australia Wide.
Dealer enquiries welcome.
Finance is now available!
Contact Farm Supplies today for sale or more information!

Photos are for illustration only, and actual product may vary from those shown.
Prices are correct at time of posting the ad, but are still subject to change.
E & OE.